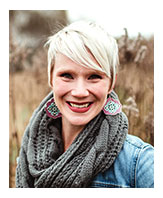 About Bethany
Bethany Conway believes some of the greatest acts of courage and strength come from becoming curious about the truth in our own hearts. What we discover there, unlocks the secrets and mysteries of our identity, our purpose, and the deep joys of life.
As a passionate and talented musician, Bethany has over 20 years of experience as both leader, and director for various bands, church music groups, choirs, and glee choirs. Her greatest musical love is writing and creating her own brand of music with recent releases on iTunes and YouTube. From training working professionals to teaching young adults to Sunday sermons, Bethany also has over 15 years' experience in communication and public speaking. Bethany's contagious energy and zeal for life are evident in her music and message, both inspiring creativity in others.
Bethany thrives on her love for her husband, three beautiful daughters, soon-to-arrive son, and two dogs. She also has a deep affection for coffee and commitment to fitness – fitness in order to feel good and have the freedom to eat that extra serving of dessert.